Have you found yourself second-guessing your style since hitting 40-something or maybe 50-something? In need of tips from a pro? Wondering what's "appropriate" or getting a raised eyebrow and remarks — possibly from your 20-something children?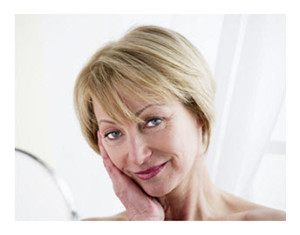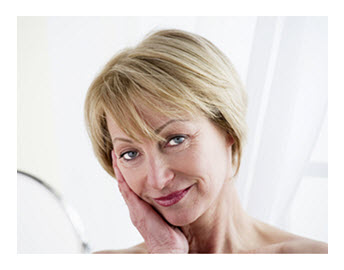 Personally, I've questioned my haircut and my makeup, I've questioned my necklines and my hemlines, I've questioned what shapes suit me best as my shape seems to shift here and there. So who better to ask for style advice for the over 40s than a woman whom I consider a friend, and guru for all things chic?
I am delighted to have a guest on this topic. Tish Jett, longtime fashion and style journalist who writes daily at A Femme d'un Certain Age, graciously agreed to weigh in on fashion and style basics that are applicable to so many of us. These are especially helpful tips for "women of a certain age" who may be finding their way back into the workplace, looking to start a new venture, or dipping a toe into the dating scene after a long absence.
On that note — please enjoy!
Style Tips for Women Over 40
At times, getting up, getting dressed and getting out there can feel like a daunting exercise.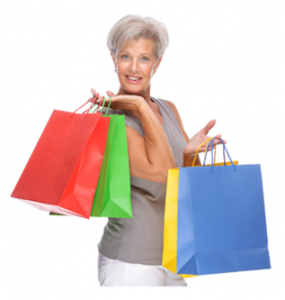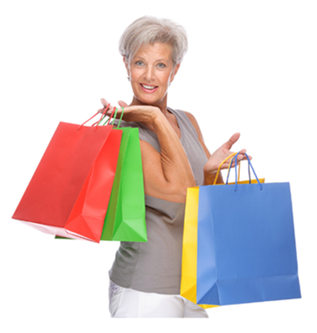 Many of us have a litany of negative self-criticism that plays in our minds, which can leave us feeling less than lovely. I'm not sure this has anything to do with age, but I do think that women of a certain age can be very hard on themselves.
But here's the thing: When you look good, you feel good and by extension, positive experiences tend to follow. Style is personality. It is an unspoken message that speaks volumes.
Since my mission here is to recount six timeless style and beauty tips, which is one of my favorite pastimes as some of you know, I'm happy to join in Daily Plate of Crazy's Monday Midlife Makeover series.
First, a word about budget. Let's assume you want to get back into the workforce, change jobs or you've decided you want to polish your image just for you. Remember, style is available at many price points, but cheap is always cheap and reflects badly upon us.
Always keep quality in mind and always be on the lookout for markdowns. It's better to have just a few classic and well-made items in your wardrobe than to rush or overspend in order to present an updated "you."
So here we go.
1. Style Basics: Grooming
Before we even begin to talk about clothes and accessories, let's get the most important detail out of the way: impeccable grooming. After a certain age it is essential to look polished. That does not exclude a certain nonchalance, but it definitely rules out sloppy and careless.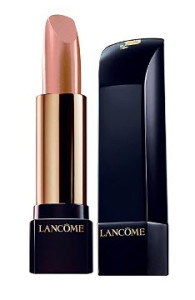 That means a flattering, no-fuss hairstyle and color. As for cut and color that best suits you, I imagine that subject will be coming up later in this Monday Makeover series including whether or not to let your hair go gray. Whatever the style and color, I'm certain you will agree that a bad hair day (or worse, months), no matter how we're dressed, leaves us feeling anything but our best.
If we don't feel our best, we won't project our best.
Grooming is always all about the details: immaculate, short, manicured nails for example. If you're job hunting, go with a pale, neutral polish. If you're doing a DIY makeover for fun, then whatever color strikes your fancy.
Don't forget a pedicure. It's summer, after all.
2. Style Basics: Makeup
Perhaps you're still wearing the same makeup in the same way as you did 10 years ago or longer. You know you want a change, but you don't quite know where to begin.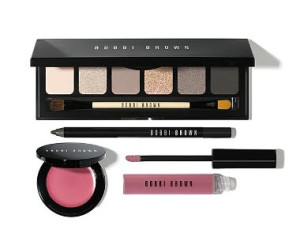 If you feel your makeup technique needs a little work, visit your local department store and head to your favorite brand. And if you aren't already loyal to a brand, you have many to choose from -– Dior, Lancôme, Bobbi Brown -– just to name a few. Pick a counter and ask for a makeup lesson. Don't be shy. Then request samples of what you like.
The French women I know try before they buy. It is absolutely de rigueur, and it makes perfect sense.
Do have fun with this. You may want a day look and a night look. And do be sure to remember the necessities like SPF.
3. Wardrobe Basics: The Jacket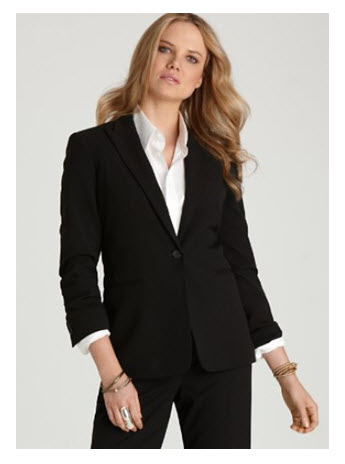 Every woman needs a couple of great jackets. If you are uncertain about lengths and structure or you want to try something new, remember a full-length mirror is your best friend. Actually, you could consider making a store's personal shopper your best friend. (More on that in a minute.) No matter how many times you've heard this advice, it is the golden rule: Spend as much as you can on jackets. They are wardrobe workhorses.
Because every wardrobe must be multifunctional, one or more of your jackets should have matching bottoms. That could mean pants or a skirt or both. That's not matchy-matchy, it's intelligent and it does not preclude wearing your jackets with your jeans.
4. Wardrobe Basics: Tees, Please
I love well fitting t-shirts in light cotton with some Lycra. The reason I like them is for their versatility. The classic crew neck provides a clean "canvas" for scarves and necklaces. Every woman should have a collection of her favorite brand in the basic colors on which her wardrobe is built. I also recommend a collection of pristine whites in a variety of cuts.
Now, some of you may prefer your tees with a V neck or scoop neck. The principle is the same, though not every necklace will be as suitable.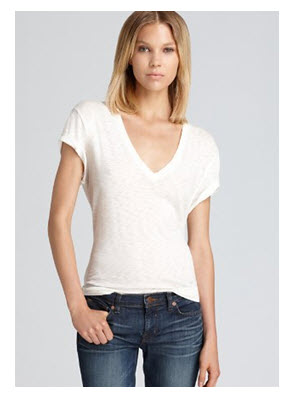 A note on color: Let's say your wardrobe is built on a navy foundation. Be sure to have some navy t-shirts as well. The unbroken vertical line looks polished.
5. Accessories: Shoes
You really don't need a closet full, though I'm aware that many of us have exactly that. You do need good shoes. Cheap shoes look cheap.  shoes also won't last. that shoes are not a good investment!
Besides, dressing your feet is where fashion meets comfort. That probably means heels – and only you know what height and style you can tolerate – a kitten heel, a chunky heel, a stacked heel, even a stiletto. You may find yourself at ease in 2" or just as comfortable in 3 ½".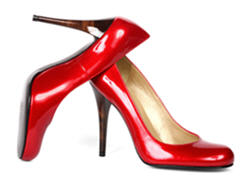 As for flats, they are basically a question of taste. Like most French women, I love ballerina flats. (Think Audrey Hepburn. You really cannot get more chic.)
6. Accessories: The Investment Handbag
Since we're talking about accessories, one more "rule" applies: a good bag. Again, no one needs scores of them, nor is it necessary to play it safe with black. And like shoes, bags are another investment item though I find myself wondering how it is that so many "good bags" might otherwise pay for an exotic vacation.
Remember: Do be reasonable whatever that means for you, do shop sales (or as the French say, les soldes d'été or les soldes d'hiver), do have some fun. Dare to purchase one beautiful bag in a great go-with-everything color like French blue, mauve or even yellow. If you keep it classic and versatile — a good shoulder bag or cross-body, a satchel or tailored tote that you can dress up or down — you will be surprised at everything you can wear it with.
A good bag takes you anywhere, through all of the seasons.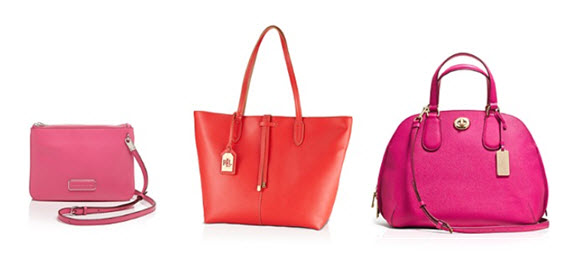 Practical Notes
Know your budget. Watch for sales. There are deep discounts to be had both online as well as in your favorite stores. This is the perfect time for you in the States. 4th of July sales are on already! If you're buying online, best to purchase what you know will fit and always, always check that you are dealing with a reputable seller, that your transactions are secure, and that you are comfortable with their shipping and return policies.
Another suggestion: Recall my mention of the personal shopper at your favorite department store. He or she will be happy to give you a call when sales are approaching. Those tempting tops that fit perfectly but were pricey? When the sales hit, you just may be able to pick up several in different colors.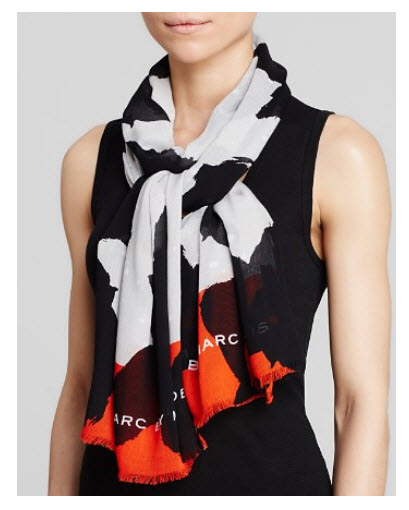 If there are necklines, hemlines and colors you are always drawn to — some of us wear certain shapes and looks like a daily uniform — don't feel a need to give them up, but do try something different, do use black as a canvas but then layer on some color as in this example of a Marc Jacobs splashed flower scarf. And do consider taking a picture or two so you may look over the images later, privately.
Parting Thoughts
Every woman should feel free to try on a new "self" from time to time, which is after all what this series is about. She should enjoy what she wears, with the goal of feeling confident.
When you try something new, you may not feel like yourself initially. All the more reason to take your time, take along a friend, take the word of a professional and take a few selfies to consider later.
Above all else, remember that you don't have to be young to express yourself through fashion or to have impeccable style. True style, as I have seen in France time and time again, is ageless.