What remains of the day, or the day after a family or friend-festive feast?
For some of us, it's turkey leftovers, as good as the day before… even better.
Add a fabulous glass of red wine, a selection of cheeses after (Gouda, Camembert, Epoisse if you've a mind – and the bucks)… Mmmm. Who even needs any pie?
A few images, as I manage to sip a fruity Merlot and put my feet up. (Make that foot… Hopping works fine, thanks…)
As usual, there were candied sweet potatoes, and we went with a big, leafy salad rather than green vegetables. (Fabulous Boston lettuce, fresh spinach, tomatoes, cucumbers, red onion, parsley, drizzled in a homemade Dijon vinaigrette.)
As for the yams – they're simple! (I admit, I opened two cans, added brown sugar, eh voilà.)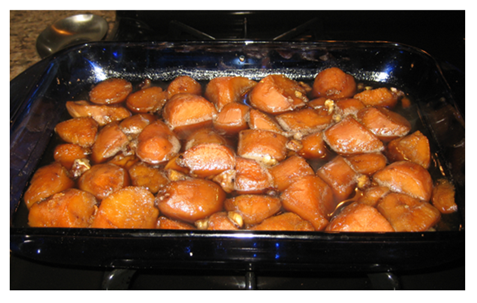 As for the stuffing, it got raves this year – from someone who doesn't like stuffing! But I cannot take the credit. It is (a) my mother's recipe, and (b) all a matter of excellent ingredients. Organic, yet still adhering to the budget-conscious lifestyle – not expensive when you can shop carefully and have access to a good market.
Besides, the secret is the apples. Really.
What's involved?
You know I don't measure. Okay, I rarely measure. I'm of the "sauvage series recipe" school…
Mom's Multigrain Apple Stuffing
Ingredients
1 artisan or other good multigrain loaf
1 to 2 tart apples (I like granny smith for this)
butter or margarine (1/2 stick)
2 to 3 cups of water (whatever looks right as you go!)
1/2 c. chopped walnuts
1/2 package mushrooms of your choice
2 stalks of celery
seasonings (Herbes de provence, rosemary, fresh thyme, black pepper)
Directions:
Toast the bread. Cut the toast into little squares.
Peel the apples then dice them.
Chop the walnuts, chop the mushrooms, chop the celery.
Melt half the butter in a large pot on the top of the stove. Add bread and stir. Add water and stir. Add everything else and stir! Slowly and carefully, as it all gets moist and mushy, keep going and add the rest of the butter as needed. This takes me 15 minutes or so.
Use some of the stuffing to put in the turkey (if you wish); put most of the concoction in a glass baking container.
Bake at 350 degrees for 45 minutes to an hour (depends on your oven and size of your container).
You will note I cook the yams and the stuffing together, usually after the turkey is done.
If it looks like the stuffing needs more time, cook it longer!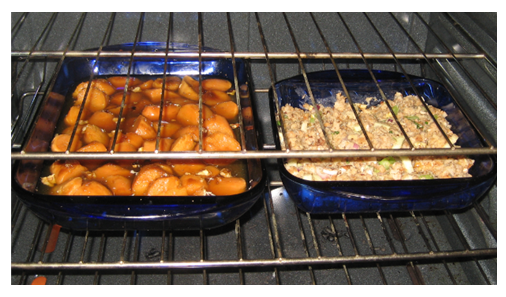 I told you. "Sauvage."
My friends like to say that… Je cuisine au pif. I cook by the nose, in other words, by feel. As it is, you're wondering "who gives their Mom's stuffing recipe after the Thanksgiving holiday?"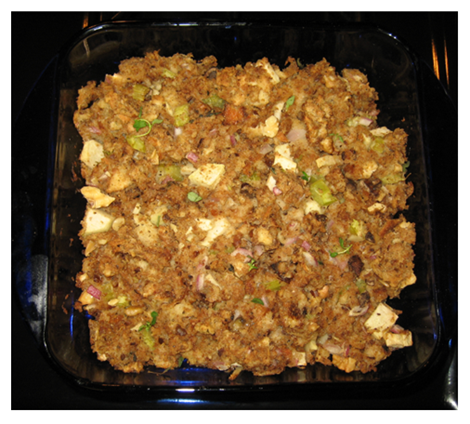 I do! It's still before Christmas, right? Aren't you going to be searching out recipes again before the December holidays?
As for the final result, simply garnished on a pretty plate – voilà. (Yes, there was pie yesterday as well as cheese, but today, a bit of camembert and wine et ça suffit.)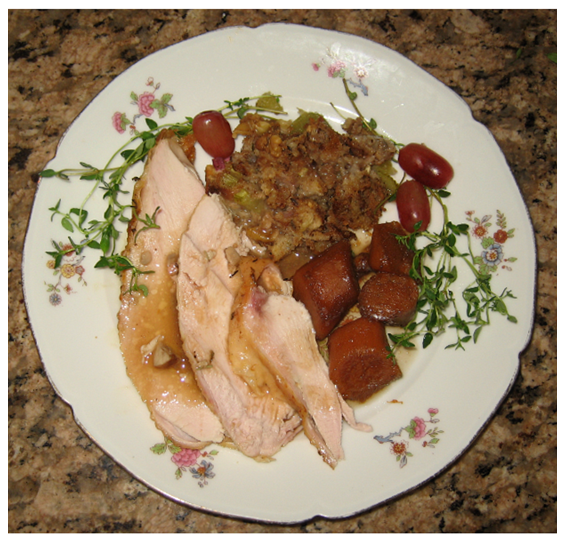 Shoe Fly Pie?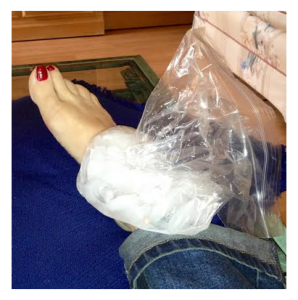 It was pumpkin pie for dessert yesterday, but as I contemplate the footwear to pair with my mother's fabulous stuffing, I'm reminded of eating shoe fly pie in Pennsylvania Dutch country when I was a kid.
Does anyone have a good shoe fly pie recipe to share?
As to my choice of chaussures – I'm currently shoe-challenged. (Yes, I'm including the illustration one more time.)
However, I will nonetheless suggest these beauties for your consideration.
Not only would they match the color of my nail polish, but, they're a classic style and the color of your cranberry sauce!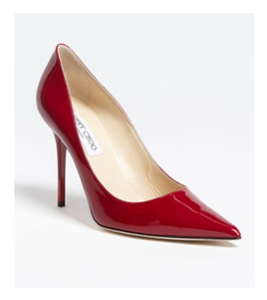 Jimmy Choos. Stunning.
(Thank you, Nordstrom. You have me salivating again… and counting the days until I can pop by your shoe department for therapy when my ankle is better.)
Insert deep and woeful sigh here, please. ______________________
Your Turn: Holiday Fun?
Are you enjoying any leftovers? Turkey sandwiches? Turkey soup? Pizza garnished with thyme and turkey? Or are you too busy shopping the sales to worry about what you're eating?
As for yours truly, not only did I "cuisiner au pif" (cook by the nose), but… le repas, c'était le pied !  And while that may literally mean "the meal was the foot," le pied also means pleasure. So the meal was great!