Slouchy mid-heel boots. Tall, calf-hugging burgundy boots. Supple, silvery, suede stiletto boots… Such a delicious dream.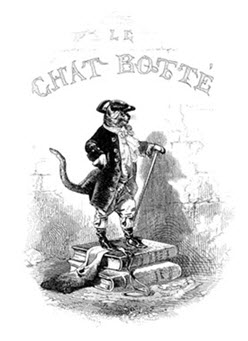 Then one cavalier creature of feline fame found its way into the conversation.
"Le chat botté," he says.
"What?"
"Le chat botté. Puss-in-boots. That's how you say it in French."
Funny how my thought process differs from his, as my cohort-in-crime rattles off literary, historical and political references more often than not, and appears ready to launch into storytelling mode.
Moi?
I'm conjuring Vince Camuto and Manolo Blahnik, Via Spiga and Cole Haan… I'm wondering if I will have occasion to tuck my tootsies into something gorgeous soon, with the requisite tights or sheer stockings, of course. At the very least, I'm looking forward to reacquainting myself with my favorite seasonal item – my well-worn, still beautiful, leg-lengthening black boots.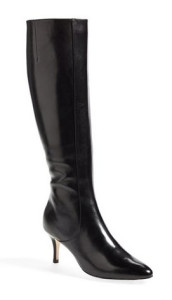 As for what's going on above the knee?
How about a pencil skirt, perfectly fitted? Or something flowing?
Boots R Us?
As the season to "reboot" is upon us, how can I refrain from sharing a few finds?
Naturally, I understand the need for an all-weather work boot – to me, it's a bit like an all-weather vehicle – and it's a look that I'm seeing everywhere. Very practical, and great with jeans.
However, ce n'est pas moi.
Fill it with a cuddly kitten?
You might convince me to change my mind.
The flat boot? I can't say I go for that either. (I'd need to grow 6″ to carry it off.) So I will say once again, ce n'est pas moi.
As for preppy, riding boot chic?
Not my thing.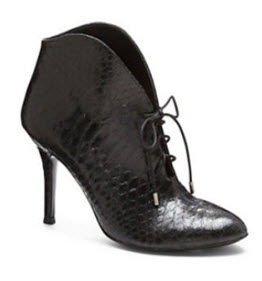 However, were I taller and of the sportier set, I might change my viewpoint on something with a bit of a lift. And then, I confess, Tory Burch riding boots ("Eloise") caught my eye.
And while I stick to my refrain… ce n'est pas moi… on the right woman in suitable attire, no doubt, very smart.
It's Raining, It's Pouring… Boots Should Not Be Boring…
Now, as for the rain boots being shown this season, while they are surely useful in a deluge, I have no plans to pose as the Morton Salt Girl, no yellow slicker at the ready, and no intention of dancing à la Debbie Reynolds while singing in the you-know-what.
Lace details, on the other hand?
Very nice, especially in moderation. And if indeed there were a cool cat in the vicinity, no doubt better than a ball of string when it comes to wiling away an afternoon.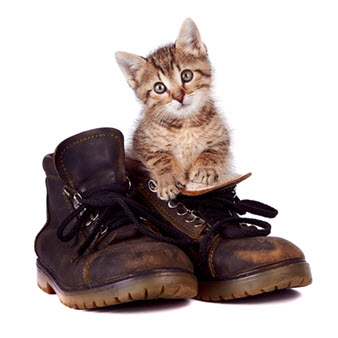 That said, I tip-toed into one vampy little number from Vince Camuto, named Cailyn.
I wouldn't mind giving it a try…
Pump Me Up!
My man is talking. I'm trying to listen. He's quite the raconteur, and is leading up to enjoyable entertainment over dinner.
But I'm channeling Choo! (The Brody Leather Ankle Bootie with its 2.5″ heel would suit me fine, thank you very much. And yes, I do wear 2.5″ heels!)
Other distractions from le chat botté you ask?
I'm wild for Wang's Britt Suede Strappy Mule Bootie! (Who cares if it's cold outside. The color alone warms my heart, and this sizzling slide would heat things up quickly… inside.)
And though I'm always longing for Louboutin, I haven't seen any of his boots in my window shopping tour that send that special shiver up my spine. And while I once referred to the most beautiful shoe in the world, the Helmut 100, a Louboutin design, there are other sexy showstoppers that take my breath away, among them, the black kid suede 3.5″ heel from Louise et Cie, the "Sarmienta."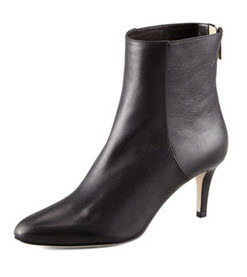 Should we call it a dress bootie? A flirtatious cutie?
I don't care what you call it or how you categorize it. Its sassy style has me aflutter with its pointy toe and seductive geometric cut-outs. Eh oui… I would work my way from bottom to top (as I often do), accessorizing these shoes rather than the other way around. Black tights, a classic skirt, and a curve-conscious seasonal sweater.
At the very thought of an elegant heel, it's inevitable that I drift to dreams of Manolos, and specifically the exquisite BB pointy toe pump with its timeless design and, so I have noted, available in a variety of heights (and colors, of course), when you special order.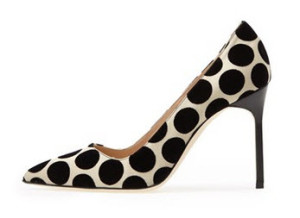 Oh how I would love to find BBs in my closet – 90mm, please. That's 3.5″. I covet these BB beauties in polka dots, tempting me at Nordstrom.
The Purrrr-fect Height
Now might be a good time to mention that I have never met a Manolo I didn't like (and I have been fortunate enough to try many on). Hélas – there are none in my treasure trove of fantasy footwear.
Dear me, not only have I left le chat botté behind in my hike into High Heel Heaven, but I am neglecting the task at hand (and foot).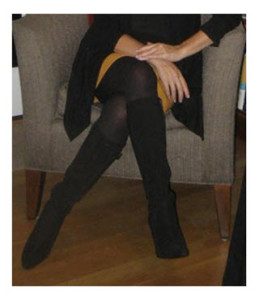 Allow me to ponder the Cole Haan leather beauty (above). Clean and sleek, the "Carlyle" comes in a 2.5″ heel. As much as I hanker for height, the kitten heel aspect of this boot – eh oui, le chat botté en serait ravi – is ladylike and elegant. And no doubt, it is ideal for comfortably making one's way through a stylish journée.
Styling and Smiling
As I turn to the contents of my cluttered closet, I lay my hands on the soft, slouchy black boots going on their third season, with their three inch heel and a small silver detail that adds a tiny touch of interest.
I am picturing a pumpkin colored nubby skirt (Ann Taylor, with black top and black tights), a deep purple skirt (picked up at an outlet for a song), a pleated burgundy skirt (purchased in the Marais five years back)… all of which accessorize my boots quite nicely…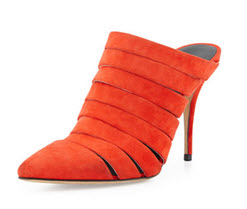 "Puss-in-Boots uses tricks to get what he wants," my guy interjects. "17th century."
Ah.
Cat and Mouse
"So how does the story go?" I ask.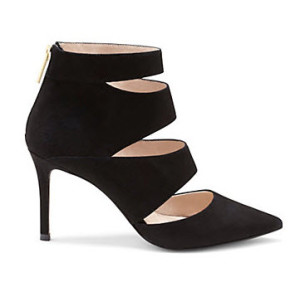 "The cat receives boots and sets out to please the king. He gets rid of his master's clothing in some scheme to help him win the hand of a princess – there's always a princess – and through a number of adventures, eventually the cat makes himself a comfortable life. He fells an ogre along the way and eats him."
"How does a cat manage to eat an ogre?"
"He tricks him into turning himself into a mouse."
"Et la morale?" I ask.
"There is no moral. Except maybe this. A well-dressed cat goes farther than one in ratty fur."
"No moral, but a lesson all the same," I say.