Pulling together your elements of style
Ready to strut your stuff à la Française?  As we continue pulling the elements of style together, it's time to get wild. And that means accessories. It's amazing how much you can turn up the volume – or down – when you change the jewelry, scarves, shoes, purses, watches and anything else you'd like to spice up your look and highlight your individuality.
Not sure where to begin? It's easy! So let's get going on Lesson Four – accessories, and specifically, the signature accessory.
Accessories: A sign of individuality
Do you have a favorite brooch from your Great Aunt Hilda? A drawer full of your grandmother's costume jewelry from sixties? Some crazy bangles you used to wear in college by the armload? Or are you into gemstones – real or faux?
Accessories are, of course, more than jewelry. They include hats, scarves, purses, shoes, belts, gloves, and whatever adornments you may use to spruce up even the simplest outfit – adding interest, pattern, color, texture, and – most important of all – reflecting who you are. Even a little cardigan or your favorite denim jacket may be viewed as an accessory.
As for how to accessorize?
Whether you're trying to learn how to accessorize your little black dress for an evening event, or jeans and a tank top for a coffee date, remember the basics from our Introduction and Lesson One – honor your body type, proportion, and know your style.
If you're overwhelmed by choices, use the analogy of putting together interiors. Think of a basic couch or day bed in a neutral tone. By changing the sofa pillows – their shape, color, fabric, scale, and texture – you transform the energy in the entire room, as in any number of examples in your favorite interior design magazine.
In similar fashion, switching up the accessories on a classic outfit will subtly or strikingly alter the look.
Where to start
Want more specifics?
Start small. Try what you have with a variety of outfits. Switch things around. Look in the mirror. Assess.
Do the short pearls work with everything, but the long strands don't?
The silver bangles you've had since college – great with jeans, but not the dress you love on a dinner date?
This time of year? Add a jolt of whimsy with brightly colored scarf and matching gloves. (Target is one of my favorite haunts for an easy-on-the-budget option.)
My preference? One something striking – rather than getting too carried away.
This season (according to French sources), a single, bold accessory, in neutral hues or metallic, is "tendance" (the current trend).
Think about how you feel in your accessories. Do you feel like yourself? A better self? Anyone but yourself? Try out a new element of style around the house. Give it a few days. See if it fits – it's a bit like trying that new perfume.
Observe. Ask your friends. Add a little. Subtract a little. Have some fun with it!
The signature accessory (examples)

While I refer to "a signature accessory," that doesn't restrict you to a single item. Over the years, you may pick up one or more signature accessories that work with a variety of looks. In my case, cuff bracelets, bold earrings and scarves are very much my signature.
Why those items?
With small hands and tiny wrists, rings and standard bracelets don't work for me. But cuffs? I adore the sleek and modernist effect, and they always fit. I have two purchased in France, and I wear them often. They feel like "me."
Another accessory style statement that I adore?
Pearls. Piles of pearls at the neck, luxuriant and layered. Eh oui, it's very Carrie Bradshaw in one of her many fashion phases – lavish, flirty, and with a touch of decadence. But she was taking a page out of a classic book – that of Coco Chanel, and generations of women who followed.
Has there been a generation you can recall that hasn't had a fascination with pearls?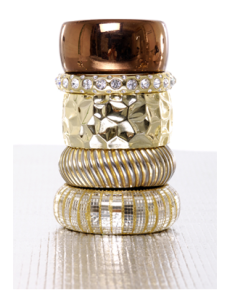 Just remember – even pearls aren't for every mood or venue.  Accessories should be appropriate to occasion and attire, and I'll say it again – proportion, proportion, proportion. If you love exuberant excess – go for it – but scale it back if you're on the shorter side.
French women and the signature accessory
Why do I associate the signature accessory with French style?
As with all things I've experienced while living, studying, working and socializing in France – fashion and beauty reflect quality, not quantity, and the individual not a game of follow the leader.
You are far more likely to find a select set of chic and mixable pieces in a French woman's placard, rather than a hundred options of low quality that make no sense together. Likewise – jewelry, scarves, shoes, bags and belts – even glasses and sunglasses – will reveal and honor the woman and her stories. They will suit her, or she will not wear them. And she wears them – not the other way around.
No one wears the crisp white shirt (in all its variations) better than a French woman – with jeans, skinny pants, loose trousers, a classic skirt and jacket. And with it, signature accessories.
Among the memorable signature moments I can conjure in a flash are bold chains around the neck, equally bold around the wrist, or with a smart watch that doesn't quite match. Or, fearlessly, whatever rings please (but not on stubby little fingers!) and scarves, scarves, scarves – at any age! Another classic? An heirloom brooch, handed down through several generations and worn on almost any occasion.
Where to purchase the perfect accessories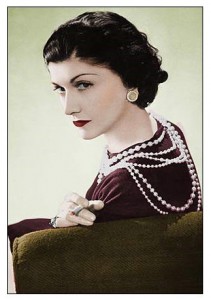 Whether it's a dozen gold bangles, as seen on Padma Lakshmi, three of your great grandmother's hatpins that make you smile, or a signature scarf – the perfect accessories may be as close as a vintage shop, your local department store, a meaningful journey, or your mother's scented jewelry box in the back of her lingerie drawer. You may also find treasures by shopping in your own closet, with a fresh eye.
Enjoying accessories is about the freedom to express your individuality – whether you're dressed up or dressed down. Try out a few things. See how you feel in each. The best necklaces, earrings, scarves, belts, jackets or any other embellishment shouldn't hide you or swallow you up. Accessories should enhance your appearance, make sense with your style, and tell your stories.
It's all about being at home in your skin – your truest, most playful, most genuine, most magnificent self.
And part of getting to that version of yourself? Confidence… the confidence to be who you are, wear what you please, and own yourself. More on that topic, coming soon