My recipe for coq au vin? Whatever is less expensive and less time consuming than a Julia Child recipe! Please pass me the pressure cooker!
As much as I love the incomparable French Chef, in particular watching her remarkable videos (for her personality as much as her technique), I love what I can do fast, easily, and with little clean up.
As the seasons begin to change, I am inclined to ramp up my heavier recipes and that usually means the pressure cooker. Those recipes include stews, soups, and one pot meals likethis all time favorite, Coq au Vin.
Not one for a lot of fussing (or measuring), I'm in the habit of tossing what looks right into the pot — par le pif as the French would say — and only checking specific amounts where I truly have my doubts.
Is this a "Don't Try It At Home" sort of recipe that follows?
Pas du tout. I consulted both this pressure cooker-specific recipe (for the amount of time) and this Food Network version of Coq au Vin to be sure I didn't leave out anything critical.
Then I did whatever I pleased…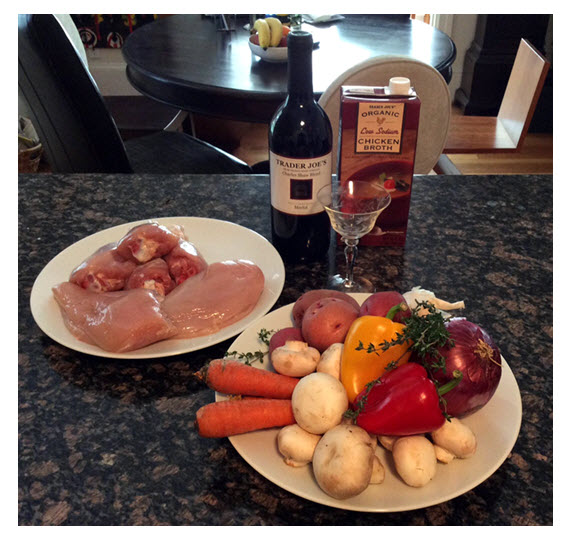 Ready?
Ingredients
2 lbs of chicken (breasts and drumsticks or thighs)
6 small to medium potatoes (we like red)
1/2 large red onion (most people use yellow)
1 package of button or other mushrooms
4-6 large carrots
bell pepper (red and yellow)
2 c. chicken broth (my preference — low sodium)
1 1/2 c. red wine
6 sprigs of fresh thyme
2-3 cloves of garlic
salt and pepper to taste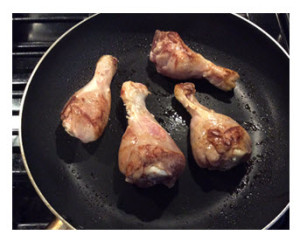 Although I love a little touch of bacon or lardon, I omit them from my recipe. I also eliminate flour or corn starch. I see no reason for the calories (or the heaviness), and though I might crave the bacon if I ponder it too long — feel free to put it in your variation — I certainly don't miss it when I sit down to eat.
Directions
You know we're a bit  "sauvage" around here when it comes to our culinary capers, and no matter who my colleague in kitchen capriciousness may be, my view is this: All you need to do is "chop everything, throw it in, then wait until it's done."
Now, now. I pay more attention than that. But cooking ought to be fun, certainly not painful, and for me, preferably not painstaking. And a little creative license is always a good idea!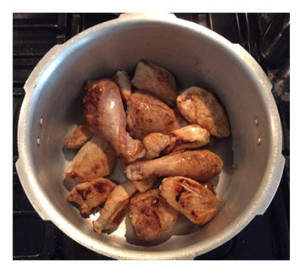 Here goes:
Sear the chicken in a little butter, margarine or olive oil. Use high heat. (My cohort-in-crime occasionally does this in the pressure cooker. I prefer to do it separately in a skillet.)
Wash your veggies, chop your veggies, layer your veggies. If you feel like being fancy, then "glaze" your mushrooms and "caramelize" your onions first. (I don't.) I also just leave my chicken on the bottom — it works out just fine.
What is surprisingly enjoyable? The pleasure of the textures, and especially the colors. So I take my time layering the potatoes on top of the chicken, then mushrooms and onions, then carrots and bell peppers… well you get the gist.
Next, simply toss on your bits of chopped garlic, pour in your broth and your wine, lay your gorgeous stems of aromatic thyme on top, and season with pepper and salt as you like it.
Note: I have increased the amount of chicken broth in the past year or so to the 2 cups that you now see in the recipe. I find this adds an incredible tenderness to the chicken, especially the white meat.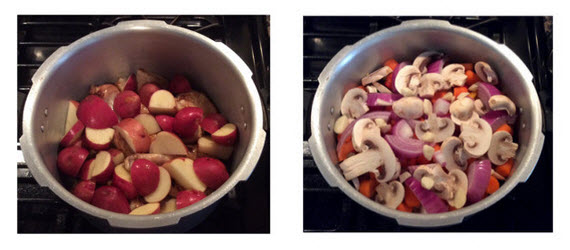 Close the pressure cooker and put it on high heat. It takes 20 to 25 minutes altogether, depending on your pressure cooker — about 10 minutes to reach steaming, then another 10 to 15 as the little top is doing its whirring and whistling thing.
When time is up, cool off your pressure cooker in the sink. Take off the lid, eh voilà!
Naturally, you can add in a few veggies if you're fond of them. Green bell peppers are delicious in autumn stews, and if I had remembered celery, I might have added a bit to this recipe. As it is, once it's cooked, I almost immediately crave the beauty of parsley's vibrant color on top — which you will see below.
Here's the gorgeous layering. It's art! Don't these colors and shapes make you happy?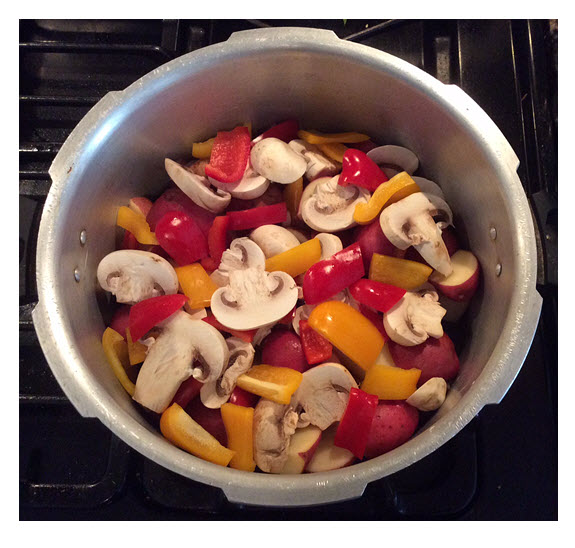 You can see that I've added garlic, pepper, broth and red wine. (I cut more mushrooms and added them, too.) And look at those scrumptious sprigs of thyme on top. Can't you almost smell it?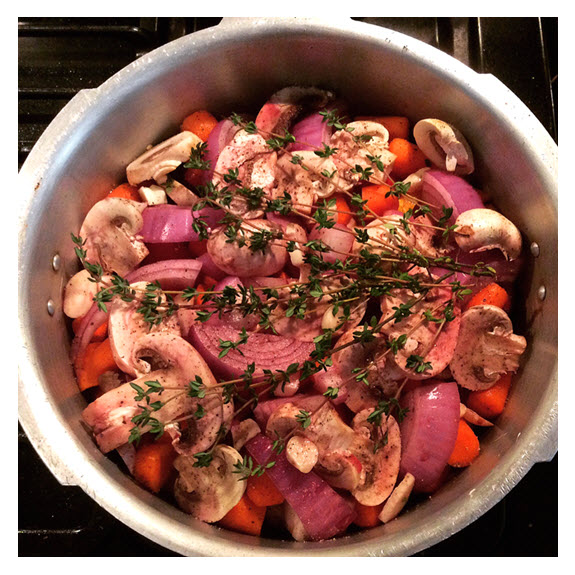 Rice and Price
Usually, if I have a starch that's part of a meal (potatoes in the coq au vin), I don't go with noodles or rice alongside or underneath. But now and then, the mood for rice strikes (my son loves it, too), so we generally go with a combination of brown rice, white rice and wild rice. We add quinoa, flax seed and parsley.
Why?
For the textural interest and the subtlety of varying flavors, of course. I buy Whole Foods 365 brand organic rice, and make it from scratch (it's easy). The price is right and the quality is good.
On that note, my total cost was about $25 including the $3 Merlot from Trader Joe's, where I picked up most of my ingredients, about 80% of which were organic. This recipe serves 4 to 6 depending on the presence (or absence) of Taller People of the Male Persuasion. And one of the things I've discovered about Coq au Vin — it tastes better the next day, and the next, and the next. It also freezes and reheats quite well.
Preparation time is usually about 90 minutes.
Opening the pressure cooker… Beneath the chicken and veggies, what you cannot see is the lovely, rich broth that gets spooned up when plating. And, sprinkling a bit of parsley…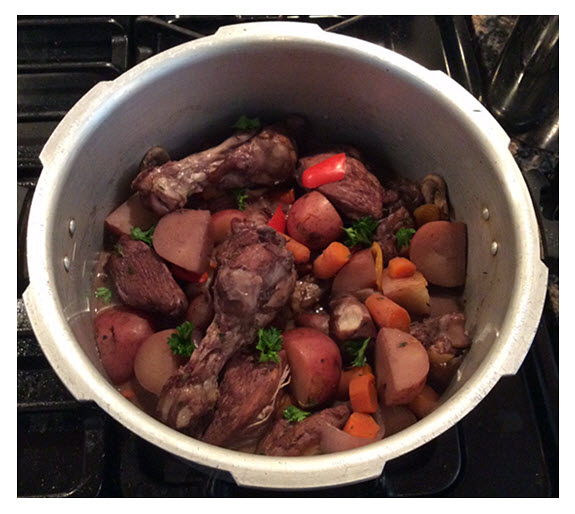 Le diner est servi…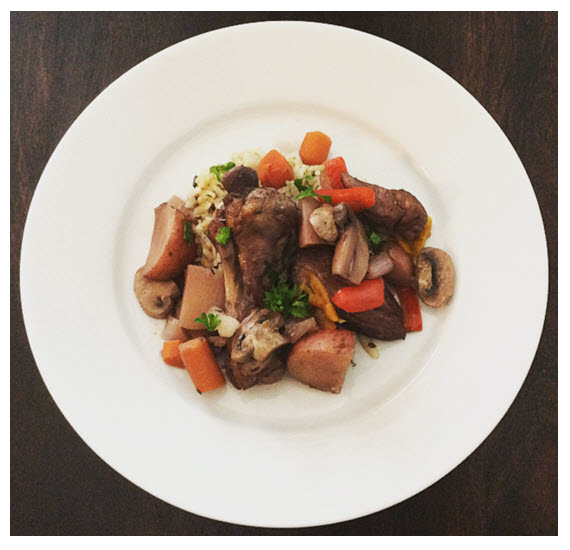 And one serving on the table… for your viewing pleasure. (Yes, there is a medley of rice beneath the main plat. Oh, if only I were skilled at shooting these pictures!)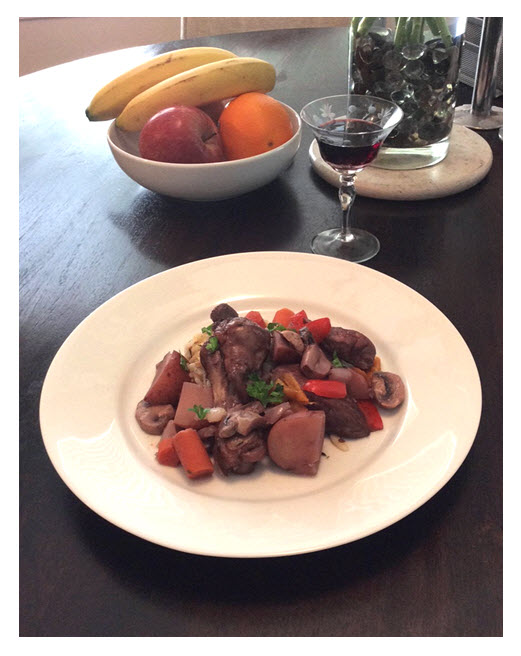 Wondrous Wine? Designer Dessert? Nope. Shoes!
Rather than recommend a wine (surely not my expertise), or offer up a delicate chocolate souffléor other delectable beyond my current bag of tasty tricks, I am instead in the habit of suggesting a culinary coupling avec chaussures. An excellent meal requires just the right shoes, and not just for dessert.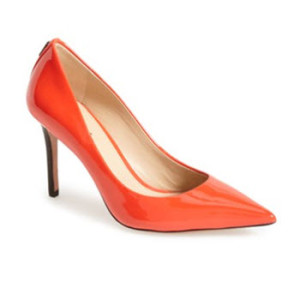 Now which of my dream addictions should I call upon for this pleasure? Manolos (for my "someday" life)? Kate Spade to set off her perky plaids? An irresistible pair of cognac colored Via Spiga boots?
As I'm in a seasonal mood — we are approaching fall to be sure — let's go with some classic heels or possibly some booties. I've been drawn to varying shades of orange for more than a year now, not only in scarves and the occasional sweater, but in shoes.
Shall I admit how many times I've slipped my petits pieds into a pair of pumps in tony tangerine, though I've yet to succumb? I do find these Coach Teddie Pointy Toe pumps in "coral" absolutely delicious. Do they pick up the rich color of the carrots on the dinner plate?
If you're inclined to dine in footwear hues that are more neutral or for that matter, more typically autumnal, how about this adorable Vince Camuto Kenya Bootie in deep plum?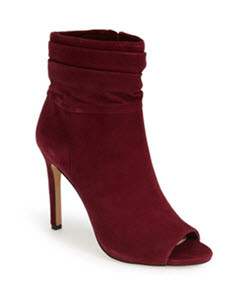 I love the suede and the peep-toe. I think this bootie is very flirty! And I'd say it goes wonderfully with a red wine, which of course means it's ideal for Coq au Vin, don't you think?
One last note on those desserts: Two tempting recipes await — Chocolate Soufflé and the World's Best Cheesecake. Both are at Sandra Sallin's place. Go check them out!
Click shoe images to access items at Nordstrom.
I have not been compensated by any of the stores or brands mentioned. (As usual, just sharing… Nothing more, nothing less.)