Fantastic food… and precocious pumps. Both seasonal, colorful, and undeniably delicious.
First, the bacalao, which is a Spanish fish stew. But lest you think I concocted this delicious dish, I must doff my chapeau to the resident French chef who was in the mood to putter in the kitchen, and recalled eating this dish at Christmastime in Mexico.
The starting point for the Bacalao recipe comes from this All Recipes Codfish Stew. Please consult that source for a far more precise and in-depth recipe, if you are less free-wheeling than we are in this household.
Moreover, we always tinker for our own particular taste, and frequently substitute types of fish (or other protein) based on both price and availability. In this case, we used tilapia rather than cod, but I confess, when I saw hard boiled eggs and organic pasta sauce added to this fishy fare, I was skeptical.
Well color me convinced. There is a seemingly odd (Mediterranean) mix of ingredients in this recipe, but oh-so-marvelous when all combined.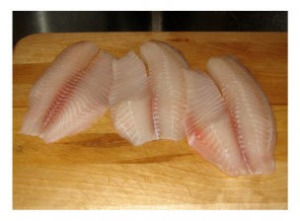 As for cost, the fish was approximately $12 (we had just over a pound); for the rest, $10 at the most (and we buy all organic). That's a total of $22 and it serves eight (generously).
Ingredients
1 pound of tilapia (or other fish)
6 medium red potatoes
1 onion, chopped
3 large cloves of garlic (we like garlic)
2 tsp of capers
½ cup pitted green olives (we like olives, too)
4 hard-boiled eggs, sliced
½ bell pepper (red)
½ bell pepper (green)
2 small boxes of raisins (approximately ½ cup)
8 oz. of pasta sauce (we used Whole Foods 365, Italian herb)
1 cup water
¼ cup white wine
Fresh ground black pepper
6 small bay leaves (we use more than the original recipe calls for)
4 oz. of green peas (we used frozen)
Directions
We cut and zapped the potatoes in a pressure cooker for speed (about 10 minutes, start to finish).
Potatoes were layered on the bottom of the large pan on top of the stove. Fish filets were laid on next, followed by all the veggies and herbs / spices, sliced or chopped, then the eggs. Next, we sprinkled on the peas. The last steps – water and wine, followed by pasta sauce and bay leaves.
Bring the stew to a boil. Then allow it to simmer on a low light, covered, for approximately 30 minutes.
That's it! Finito! Fantastico!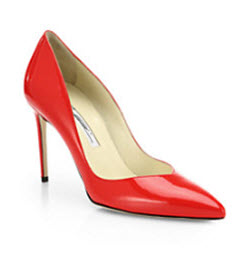 May I say that this meal did not survive more than a day? It was consumed (by three) for dinner, with seconds. It was consumed (again) by one, in the middle of the night (returning home from a holiday party). It was enjoyed a third time at midday (for one) as a small meal, and polished off with gusto (by three) as an early dinner, not quite 24 hours later!
Naturally, a fine meal requires an equally fine footwear selection (rather like choosing a good wine). And yes, I'll take hot shoes over a tasty wine any day!
My (dream) recommendation?
This elegant Brian Atwood patent pump gets my vote.
Not only is the color especially cheery this time of year, but its stiletto heel is sinfully sexy, and the saucy dip toward the toes, very fetching. Moreover, 90mm (3.5″) is a heel that I can wear without too much difficulty – as can many women I know, and without looking ridiculous. Besides, I prefer sticking to heels under 4″ in height as, believe it or not, I like to feel comfy even in my girly shoes – all the more to enjoy one's company. And isn't that the point?